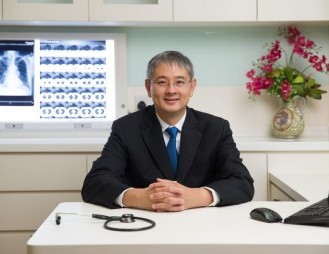 Dr Steve Yang Tze Yi is a Consultant Respiratory Physician and Intensivist with The Respiratory Practice and currently the President of the Society of Intensive Care Medicine as well as the Vice President of the Singapore Thoracic Society.
Dr Steve Yang obtained his basic medical degree from the National University of Singapore in 1994, and subsequently received training in Respiratory Medicine and Intensive Care Medicine at Singapore General Hospital (SGH). He further trained in Intensive Care Medicine and Interstitial Lung Disease at the University of Washington Medical Centre in Seattle, USA. He has obtained his Fellowship with the College of Chest Physicians (USA), the Chapter of Respiratory Physicians (Singapore) and the Chapter of Intensive Care Physicians (Singapore). He also holds the European Diploma in Intensive Care.
Dr Steve Yang is currently a Consultant in The Respiratory Practice, and has a strong interest in Critical Care, Interstitial Lung Disease as well as End-stage Lung Diseases. He serves as Chairman of IRB-D, a subcommittee of SingHealth's Centralized IRB and is also involved with research in Critical Care and Interstitial Lung Disease and has published in both local and overseas medical journals. He is a regular reviewer in the Singapore Medical Journal, Respirology and Respiratory Care.
.
.